Monday, October 03, 2005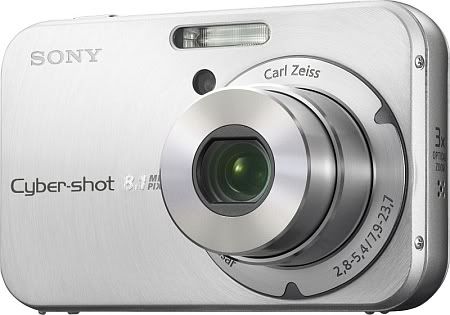 Sony adds more enjoyment and value to your digital photography with its new full-featured compact digital camera with built-in photo sharing functions that goes beyond just picture taking.
About the size of a deck of playing cards, the stylish Cyber-shot® DSC-N1 is a high-performance, 8-megapixel camera, with an amazingly large, 3-inch, touch-screen LCD that is rare for a compact camera of this size. The N1 features a new album function that automatically stores up to 500 of your favorite images in VGA resolution, and uses them to create dynamic slide shows with music and transition effects – in the camera.
"Since the introduction of compact cameras with large LCDs, consumers have increasingly been using their cameras to not only capture moments, but also share and show them immediately on the LCD screens," said James Neal, director of digital imaging products at Sony Electronics. "The combination of these functions makes the N1 'more than just a camera', because it takes sharing to a whole new level."
All You'll Need in a Compact Camera
Take pictures with the confidence that you'll get excellent picture quality. With the DSC-N1's 8-megapixel Super HAD™ CCD, its resolution is extraordinary for a compact camera. The camera's Carl Zeiss Vario Tessar® lens lets you capture images with the utmost sharpness and clarity.
Store Up to 500 of Your Favorite Photos
The N1's album function automatically stores up to 500 of your favorite images for a "pocket full of memories." By recording each image separately, once in full-resolution and again in 640x480-resolution, your favorite images accumulate for easy recall and sharing wherever you go.
Comments:
Igia Therma-steam Warm Steam & Cool Mist Facial Sauna With Ionization crazy gadget Moisture water is what keeps your skin soft and supple. Skin feels soft when its top layer contains from 10% to 35% water.
Most lotion or cream \"moisturizers\" contain some water blended with oils that seal the outer layer of skin and protect it from losing moisture. Glands within the skin, called sebaceous glands, also produce an oily substance called sebum that helps protect against evaporation.
However.... the layers of oil gets dirty. Dirt and impurities cling to the oil and combine with dead skin cells to clog the pores. IGIÁ Therma-Steam stimulates blood flow and helps unclog pores. It also cleans out dead cells, built-up oil, bacteria and perspir...
crazy gadget
Post a Comment
<< Home