Thursday, October 06, 2005
Less functions but more ease of use in a quality jacket. Serene, a new mobile phone which has come about by a cooperation between electronics giant Samsung and the Scandinavian frightened & Olufsen, must unite these quality's in its clamshell' design, according to the cooperation. Where some modern gadget fight for as much as possible incorporates of (complex) many functions and features, which partly seldom or never are used by the consumer to become, if they are already discovered after searching through the several menus and instructions for use, serene will break with this tradition.

The body of the serene exists out of two equal parts which are kept together with a tightly formed articulation or aluminium. The display and the microphone are placed in the bottom shell or the telephone. The circular keyboard and the boxes are in the upper shell with in the middle a wheel. The user controls this wheel with his thumb to use all basic functions. To limit the number of functions on the mobile phone, diminishes the number of menus.

Serene will be delivered standard with a triangular docking station. The advice price is about $ 1200.
Wednesday, October 05, 2005
Creative has certainly put a lot of work into the design, both hardware and software, of the Zen Vision. The Zen Vision is an exceptionally well-crafted player.
The good:
- gorgeous high-resolution screen
- beautiful, compact design
- excellent interface
- plays and records FM radio
- supports TiVo To Go and limited movie downloads
- syncs with Outlook
- removable battery
- CompactFlash slot
- reasonably priced
The bad:
- limited viewing angle
- no line-in audio or video recording
- doesn't display album art
- can't schedule radio recordings
- no kickstand
- no easy way to watch DVDs
- TiVo To Go requires file conversion and third-party MPEG-2 decoder
- incomplete documentation
Read the whole review
here.
You want to game on your cell phone, but not with the numberpad as controls? There is now the new Aving game pad. It's small and easy to carry around. A directional keypad is on its left wing and the four action buttions are on the right. It communicates with your phone using Bluetooth.
Tuesday, October 04, 2005
SanDisk today introduced the SanDisk Sansa(TM) m200 series of MP3 music players that use embedded flash memory to store many hours of digital music. The new players support Microsoft(R) Windows Media(R) Player 10 and feature PlaysForSure support for portable music downloads and subscription services such as Rhapsody To Go(R), Napster To Go(TM) and Yahoo! Music Unlimited.

"It is SanDisk's guiding principle to always provide superior value to its customers," said Eric Bone, director of retail product marketing at SanDisk. "One of the ways we have done this with the Sansa m200 line is to feature support for music subscription services and capacities that include a 4-gigabyte (GB) model for $199.99, made possible with our new 70-nanometer NAND/MLC 8-gigabit chip. When you combine these key features with a compact yet robust industrial design and an easy-to-use interface, we believe the Sansa m200 line will be very compelling for anyone who appreciates music."

"SanDisk's new m200 series of flash-based players represent a major advancement for the portable music subscription model," said Robert Acker, vice president of music services for RealNetworks. "Using Rhapsody To Go with these new players gives consumers the market's best music experience, combining superior playback performance with Rhapsody's extensive playlists, samplers and editorial recommendations."

The new players are designed to work seamlessly with a wide range of popular music formats such as MP3 and Windows Media Audio (WMA) in both unprotected and protected files (such as those WMA files purchased from music service providers and music download sites).

The Sansa m200 series is available in 512-megabyte (MB), 1-, 2- and 4GB capacities, which is the highest capacity currently available for flash-based players. The new m200 players can store hundreds of songs and play up to 19 continuous hours on a single AAA battery.

Included Features:

-- Microsoft PlaysForSure support to ensure proper playback of digital music

-- Up to 4GB of flash storage capacity

-- Digital FM radio with 20-presets

-- Voice recorder with built-in microphone

-- Hi-Speed USB 2.0 interface and cable for fast music transfers

-- Support for MP3, WMA (both protected/DRM and unprotected) and Audible audio file formats

-- Easy to read LCD that displays album, artist and song title information





Newlaunches.com reports that Panasonic unveils the prototype of the world's smallest plasma display.
Panasonic unveiled prototype of the world's smallest PDP that delivers more than two million pixels (1,920 × 1,080) and the same brightness as its current high definition (1,366 × 768) model TH-50PX500 at CEATEC JAPAN 2005 at the Makuhari Messe in Chiba Prefecture, east of Tokyo.
Read more @
newslaunches.com
According to Olli-Pekka Lintula, marketing manager by 'Nokia's platform division', all future Nokia-phones for companies will be equip with WiFi-functionality and still will be launched this year a business VoWLAN-phone. VoWLAN stands for Voice over WLAN and offers the user the possibility to use ip-telephony over the wireless network. In 2006 would come the first VoWLAN-phones for consumers available.
The phones with VoWLAN-functionality are dual-mode-phones, which means that they use the wireless network when it's available, but likewise can change over to traditional cell phone technology when they come out of reach of the network.
According to Lintula would settled 88 percent of the phone transfer by locale network. Of it will be cheaper, is another question. An important criterion therefor will be the standardizing of the communication between different networks. In 2009 there would be more than 100 million WiFi-cell phones, but there are only a few millions this year.
Monday, October 03, 2005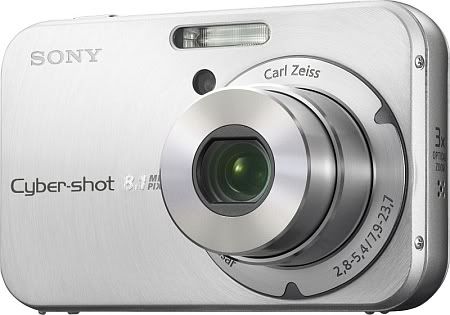 Sony adds more enjoyment and value to your digital photography with its new full-featured compact digital camera with built-in photo sharing functions that goes beyond just picture taking.
About the size of a deck of playing cards, the stylish Cyber-shot® DSC-N1 is a high-performance, 8-megapixel camera, with an amazingly large, 3-inch, touch-screen LCD that is rare for a compact camera of this size. The N1 features a new album function that automatically stores up to 500 of your favorite images in VGA resolution, and uses them to create dynamic slide shows with music and transition effects – in the camera.
"Since the introduction of compact cameras with large LCDs, consumers have increasingly been using their cameras to not only capture moments, but also share and show them immediately on the LCD screens," said James Neal, director of digital imaging products at Sony Electronics. "The combination of these functions makes the N1 'more than just a camera', because it takes sharing to a whole new level."
All You'll Need in a Compact Camera
Take pictures with the confidence that you'll get excellent picture quality. With the DSC-N1's 8-megapixel Super HAD™ CCD, its resolution is extraordinary for a compact camera. The camera's Carl Zeiss Vario Tessar® lens lets you capture images with the utmost sharpness and clarity.
Store Up to 500 of Your Favorite Photos
The N1's album function automatically stores up to 500 of your favorite images for a "pocket full of memories." By recording each image separately, once in full-resolution and again in 640x480-resolution, your favorite images accumulate for easy recall and sharing wherever you go.
Todd Dailey has write down how to make a lanyard for your iPod Nano.
Last night I was lamenting the lack of any sort of lanyard holder for my iPod nano. The official iPod nano Lanyard Headphones aren't out yet, and I wouldn't use those anyway since I don't like the Apple earbuds, I love my
Sennheiser PX100's
too much to give them up.
Sunday, October 02, 2005
This digital camera has a high-quality lens with 4x optical zoom. The large 2.5-inch display with 207,000 pixels renders a brilliant image for sure evaluation of your composition and reproduction.
The Leica camera, with its optics, its image stabilizer and 8.4 megapixels, meets the highest standards of the renowned Leica brands.
Ben Patterson has reviewed the Nokia 6682. With the EDGE-enabled Nokia 6682, the folks in Finland have unleashed one of their most stylish and powerful smart phones to date, he says.
The good:
- stylish
- large, vivid display
- EDGE support
- 1.3-megapixel camera
- fully enabled Bluetooth
- excellent photo- and video-editing tools
- music player supports MP3 and AAC files
- sends photos directly to USB-enabled printers
The bad:
- bulky and heavy
- small numeric keys
- no dedicated controls for the camera or speakerphone
- so-so camera features
Read the full review at
CNET
Motorola CEO Ed Zander claims that Apple will build its own cell phone.
After his presentation Thursday at Technology Review's Emerging Technologies Conference at the Massachusetts Institute of Technology, CNET News.com asked Zander whether there's a rift between the companies. In particular, is he happy with the partnership that produced the Rokr? And did Apple upstage the Rokr by introducing the Nano at the same press conference?

Zander said his comments about the Nano were "taken completely out of context. We have a great relationship with Apple. I've known Steve Jobs for 15 years. Sure, there is some tension there. We have the Rokr, and they have the Nano. They are a competitor as well as a partner."

He also added fuel to persistent speculation about Apple's interest in producing its own phone. "And we know that they are going to build a smart phone--it's only a matter of time."
The multi-codec PMP allows users to watch movies, enjoy DMB TV content, and listen to music on the go.

Samsung's YM-PD1 supports a 30GB HDD for multimedia file playback, including movie and music files. The terrestrial DMB TV function allows easy television viewing on a 4" wide TFT-LCD screen. The clear and detailed image is enhanced by Samsung's proprietary sound technology, the Digital Natural Sound engine (DNSe™), for ultimate audio-visual quality.

The YM-PD1 will enhance the urban lifestyle of active businesspeople and students who enjoy portable multimedia entertainment. The device supports indoor entertainment as well as outdoor, with a TV-out option to merge DMB TV and multimedia file payback with home networking.
Specifications:
- 20/30GB built-in Hard Disk Drive
- Terrestrial DMB receiver
- MP3, OGG, ASF, WMA & Secure WMA Playback
- MPEG4, WMV, AVI, Divx, Xvid Video file Playback
- Jpeg, bmp picture file Playback
- 4" Wide TFT-LCD
- SDIO slot
- Gaming
- TV out
- TV in (recording)
- USB 2.0 Support
- FM Radio and Recording
- Voice Recording
- 6 Hrs Playback Time (Li-ion Battery ; when it plays Mpeg4 file )